Você já ouviu falar na Pacific Eye & Ear? Não? Para quem ainda não sabe a Pacific Eye & Ear (PE&E) foi um dos principais estúdios de design na década de 1970, foi de lá que sairam várias capas de álbuns conhecidas do mundo da música como a de "Sabbath Bloody Sabbath" (1973) do Black Sabbath e "Welcome to My Nightmare" (1975) de Alice Cooper.
Capa de Welcome To My Nightmare de Alice Cooper
A PE&E foi fundada em Janeiro de 1972 por Ernie Cefalu, que anteriormente havia juntado forças com o designer Craig Braun e juntos criaram as capas para discos como "School's Out" de Alice Cooper e "E Pluribus Funk" do Grand Funk Railroad, sendo que este último vinha em uma embalagem totalmente redonda simulando uma moeda como você pode conferir em uma das imagens abaixo. Uma pena que este lado criativo tenha sido pouco explorado após a chegada dos CDs.
Durante os 15 anos após a criação da PE&E, Ernie Cefalu chegou em alguns momentos a trabalhar 20 horas por dia e criou cerca de 184 capa de álbuns que incluiam grupos como o The Doors, Aerosmith, Bee Gees, Black Sabbath, The Guess Who, Jefferson Airplane, entre outros.
A capa redonda de E Pluribus Funk
Captain Beyond e sua capa em "3-D"
A primeira grande encomenda para a Pacific Eye & Ear veio em Março de 1972 quando Lee Dorman do Iron Butterfly estava montando uma nova banda - Captain Beyond - e ele queria que Cefalu fizesse a capa. Durante as semanas seguintes Cefalu trabalhou de perto com Lee Dorman para criarem a aparência do "Capitão". Cefalu então pediu para seu parceiro, Joe Garnett, criar uma ilustração para o fundo que desse um ar mais futurista ao desenho. Ele então fez o Capitão sobre um meteoro no espaço com suas mãos prestes a agarrarem um globo com dois triângulos invertidos brilhando dentro dele. Como se não bastasse os dois ainda imprimiram a capa sobre uma folha de 5"x9" de plástico lenticular dando um efeito 3-D à imagem, algo totalmente inédito em uma capa de disco até aquele momento.
A PE&E também ficou conhecida por contratar vários artistas jovens e talentosos como era o caso de Drew Struzan que desenhou para Black Sabbath, Beach Boys, Earth Wind and Fire, entre outros. Mas sua obra mais notável é a capa de "Welcome To My Nightmare" de Alice Cooper que está na lista das "100 Melhores Capas de Álbuns de Todos os Tempos" da revista Rolling Stone. Apesar da boa repercução de suas criações, Drew Struzan recebia apenas algo entre 150 e 250 dólares por capa.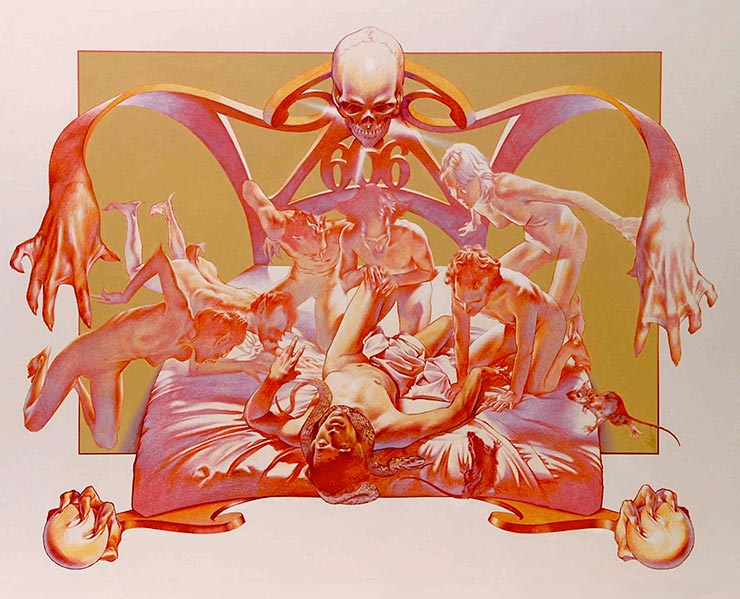 Sabbath Bloody Sabbath de Drew Struzan
Drew também criou a capa de "Sabbath Bloody Sabbath" do Black Sabbath e um fato curioso é que ele é o homem deitado na cama e é também os três demônios que aparecem na capa. A mulher da esquerda é Bonnie, esposa de Ernie Cefalu e a mulher da direita é Ingrid Haenke, que também era uma ilustradora da PE&E e desenhou capas como "Toys In The Attic" do Aerosmith.
Agora pela primeira vez em mais de 30 anos os arquivos da Pacific Eye & Ear estão disponíveis para compra. Serão mais de 250 trabalhos originais oferecidos, incluido as pinturas originais, desenhos e esboços que virão diretamente dos aquivos do estúdio.
As obras serão liberadas aos poucos, no momento apenas as cinco primeiras foram disponibilizadas, e estão disponíveis em dois formatos: "Standard" que conta com a gravura sem assinatura e "Signature" onde a gravura vem assinada pelo autor da obra. Todas as obras vem também com um certificado de autênticidade assinado por Ernie Cefalu.
Fãs e colecionadores com dinheiro de sobra podem adquirir as obras através do site
RockPop Gallery
. Algumas das várias capas da PE&E podem ser conferidas na
originalalbumcoverart.com
.
"Full Circle" do The Doors desenhada por Joe Garnett