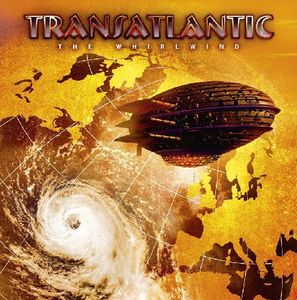 O
Transatlantic
é uma banda de rock progressivo fundada em 1999 pelo ex-baterista do
D
ream Theater
,
Mike Portnoy
e o ex-vocalista/tecladista do Spock's Beard, Neal Morse. Também foram recrutados para completar o line-up Pete Trewas, baixista do
Marillion
, e Roine Stolt do The Flower Kings.
A banda havia lançado dois álbuns, SMPT:e (2000) e Bridge Across Forever (2001), porém em 2002 a banda terminou devido à outros projetos de Neal Morse, que recentemente havia deixado o Spock's Beard.
Em 2009 a banda anunciou que retomaria suas atividades e no mesmo ano lançaram The Whirlwind, álbum mais recente do grupo até o atual momento.
The Whirlwind é diferente dos álbuns anteriores do Transatlantic por um motivo: ele possuí apenas uma música. A faixa homônima possui 77:54 minutos de duração. Calma, não há motivo de desespero para aqueles que não quiserem encarar a música megalomaníaca inteira de uma só vez, pois
The Whirlwind
é dividida em 12 partes, porém a música funciona muito melhor quando ouvida inteira.
Neste disco há tudo o que se espera de um bom álbum de rock progressivo: ótima musicalidade, ótimas composições, ótima produção, e como podemos perceber pelo line-up, ótimos músicos.
Há uma química muito boa entre os músicos e as novas idéias apresentadas neste disco funcionam muito bem. Apesar da duração da música, ela flui perfeitamente bem sendo que em alguns momentos a mudança de um de seus subtemas para o outro é imperceptível.
Não é qualquer banda que consegue fazer uma música de 78 minutos soar tão bem estruturada e coerente. Para os apreciadores do bom rock progressivo, vale a pena conferir o trabalho da banda.